Is social media ruining childhood? This is a very big question. I got to debate this topic in Tuesday's class. My partner Laurie and I debated on the 'agree' side of the statement that social media is in fact ruining childhood, while Dean and Amy argued against us that it is not ruining childhood. My partner Laurie and I started researching and found a lot of evidence that shows social media definitely affects children today. There was a lot of research on the effects of technology in childhood. Kids development and growth are  affected by technology use. It was difficult to find research that targeted social media on young children. The research surrounded kids mainly 13 to 17 years old. Age restrictions on most social media platforms are for kids 13 and older. Please check out our Wakelet for more research and articles to support the statement social media is ruining or 'changing' childhood as my classmate Daina wrote in her blog post.
A point that was brought up is- what defines childhood? What age does childhood end? The arguments we had for younger kids was that  social media is a distraction in their families. Their parents may be distracted by social media. They could be checking their phones more often and not paying attention or connecting with their kids. Children who have older siblings may experience them having depression or mental health issues because of social media. This affects children, their childhood and family dynamics. It would be interesting to see research on the impact of social media on families. Are families less connected to each other? What is social media doing to our homes?
It was very hard to compress all the research that we had done in an only 5 minutes video. (yes, Dean we went 22 seconds over) Our video consisted of three major categories mental health, safety, and cyberbullying.
Dean and Amy made a great video opposing us stating that social media is not ruining childhood. They focused on the 10 Examples of the Positive Impact of Social Media.
Young people can feel empowered to teach older relatives to use technology
It can be used to create a positive digital footprint
It provides parents an opportunity for open communication
It helps students learn essential job skills
It can lead to more communication, connection, and creativity
You can use it to form or join (support) groups that may not be represented locally
It offers students a way to stay connected
It promotes students' civic engagement
It spreads social awareness and kindness
It offers students a way to stay in touch with friends if they move
It was very eye-opening to research the affects of social media on teenagers' mental health. Teens live in a world where social media is a major part of their daily life. It plays a huge role in their social life. They are constantly thinking about what their friends are posting, commenting, and liking on social media. They have a self image to display online and want to portray themselves in a specific way. Teenagers struggle to be mindful because they are always thinking about what they are missing online. We mentioned FOMO in our video which means the fear of missing out. I remember when I would work at camp and we would not be allowed to have our phones for the week. It was so refreshing to unplug and be in nature for a week. I wish all teens could experience this now as they are addicted to having their phones with them at all times. The amount of suicide in teens that have gone up since social media has been prevalent in our world is heartbreaking. This ties in with our research on cyberbullying. Our opponents argue that social media can be a positive platform for teens to express themselves and make positive change in our world specifically in bullying. But there is a lot more evidence that shows it's negative effects on teens. Now I'm kind of an old-school, country girl that really believes kids should be kids as long as they can. Social media has very negative affects on me and it can be a huge distraction in my life. I see so many adults not able to navigate it in a positive way and it affects their mental health. As you may be able to tell through my writing I actually believe this statement to be true, maybe not that social media is completely ruining childhood but that it's definitely changing and affecting childhood. It's forcing kids to grow up faster and can take away their innocence. Our safety section was scary to read and learn about. Becoming educated about The National Child Exploitation Coordination Centre and Saskatchewan Internet Child Exploitation (ICE) Unit literally made me sick. When I was in high school every Friday I would watch the show Dateline NBC. My favourite segment was when the show would use online chat rooms to lure and confront predators. Professionals would pretend to be a young girls or boys and strike up a chat with an older man or women. Eventually they would  set up a time for this older man or woman to come to where the young girl or boy said they would be. They would say their parents are not home. I remember being so disgusted by this but also I couldn't stop watching. In Grade 9 health I did an assignment on this specifically because it really interested me and I wanted to share what I had learned. That was about 15 years ago- before social media. The stats that we found about reports on child exploitation is extremely gut-wrenching. The fact that complaints of child exploitation has gone up 616% in six years is super scary. Even if children know how to use the internet properly and are taught to use it safely doesn't mean they're going to. I would highly recommend checking out the ICE unit in Saskatchewan and reading about the incidents that they responded to this year. I remember even after watching the Dateline show, I still went into chat rooms when I was told not to and knew how dangerous they were just to see who was out there and to strike up a chat. I was always a curious child and I always needed to learn things on my own. I only did this once and deleted it right away. We know kids are curious creatures and social media is a big world to explore and learn about. Without direction, social media can be very unsafe for kids and teens.
Doing this debate really taught me about how important it is to stay up-to-date with the trends and challenges that are going on on social media. There are so many parents, professionals, teachers, and adults that have no idea what is going on on social media and these are the people that are supposed to teach kids how to navigate it properly. In our video we stated that teens brains are not yet fully developed to be able to make good choices on social media. These choices they make follow them for the rest of their life. Kids don't understand that the choices they make now and post on social media can affect them down the road. Yes, kids have always been making risky choices and doing crazy challenges, like was stated in class, but it wasn't ever recorded and didn't follow them for the rest of their life like it does today. It is so important to teach digital citizenship and leadership today in our schools but also we need to be educating parents. Is this really our job? Whose job is it? Social media evolved really out of nowhere and now we have to bring this into our teaching. I wouldn't completely say that it's ruining our childhood but I would say that it is putting a lot of danger and stress on kids today. I always feel so lucky to not have grown up in this time. Kids have so much more pressure and stress to connect to friends online. They are always thinking of likes and comments and what their friends are saying about them. So many kids have experienced cyberbullying. Yes, there's lots of positive things that happen on social media but from my research and researching the topic, the negative trumps the positive. I'm optimistic and hopeful that this can change but it's got to start with adults. If adults can't use social media properly, how are kids supposed to be able to? If schools are expected to teach these skills, there needs to be PD for educators.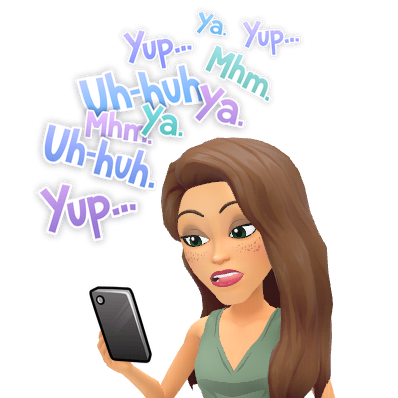 I really enjoyed learning about this topic as it is something that has always interested me. Honestly for me, social media gives me a lot of anxiety. I never post online, I overthink everything that I want to post, and I am anxious that I posted the wrong thing. I stopped posting on Instagram about 3 years ago. The reason I stopped posting and deleted my Instagram app was because every time I went to do something, I was thinking of taking the perfect picture for Instagram instead of actually enjoying the moment and having fun with it. Anytime I did something exciting or went on a trip, I was focused more on the pictures for Instagram then being present and enjoying myself. I realized I personally was not able to balance it and I was constantly comparing myself to people I saw on Instagram and their 'highlight reel' that looked so perfect.  I know for me personally I'm way happier when I'm not looking at social media. I am a lot less anxious and I can be present and mindful. I realize it can be a very positive place as well where I can connect with my friends and family. I would never say social media is actually 'evil' like we stated in our video. But it does affect a lot of people in a negative way.
I had fun learning and debating against Dean and Amy. They had really good points about social media being a positive outlet for teens. What argument I definitely cannot go against is students that are feeling alone and may need to find a community that they can relate to and feel connected to. I had an older student show me all of the communities they were a part of on Instagram where they had met many friends and even had a best friend they had never actually met in person. They talked on social media and Facetimed every day. This students social media gave a community and connection they needed and didn't have otherwise. This is definitely something I can't argue. Teens who feel alone can build a community on social media that provides the support they need. But we also see the opposite often of very harsh and mean messages happening on social media at the same time.
I see both sides of the argument but personally lean more towards social media having a negative affect on children, teens and our society in general. I see the benefits and enjoy them myself at times but personally feel we'd be fine without it. The research I did with my partner really made me see this.
Thank you to my amazing partner Laurie for being fun and passionate to work with! Thank you to Dean and Amy for the great debate! I learned a lot! 🙂